Mississippi Swing Brass Band!
What started out as a one man band in 2005 grew to a record 40 volunteers in 2014 and 6 time winner of The Otha Turner  Award (2008, 2009, 2010, 2012, 2014, 2022), winner of the O.C. McDavid Award (2013), winner of the Arthur Mahoney Spirit Award (2015), and led the parade in 2017 - The Mississippi Swing Brass Band! brings a robust, local musical flavor to the ever popular Mal's St. Paddy's Day Parade. A spinoff of Mississippi Swing! and the Mississippi Community Symphonic Band, the group plays New Orleans old school brass band favorites like When the Saints Go Marching In, Second Line, and Down by the Riverside as well as contemporary brass band classics like Do Whatcha Wanna. Click on the podcast link at the bottom of the page to see the video clip when they won the Otha Turner Marching Band Award at Hal and Mals in 2008. When you get to the site - click on the Parade Awards video. Scroll to the 3 minute 30 sec spot in the video - that's when the award was given. In 2009, the Mississippi Swing Brass Band! was invited to lead the Red Hat Parade at the new Renaissance, in Ridgeland.

An all professional version of the brass band is available upon request. For more information, contact Bandleader David Schommer at 601-951-9091...
2022 MS Swing! BRASS BAND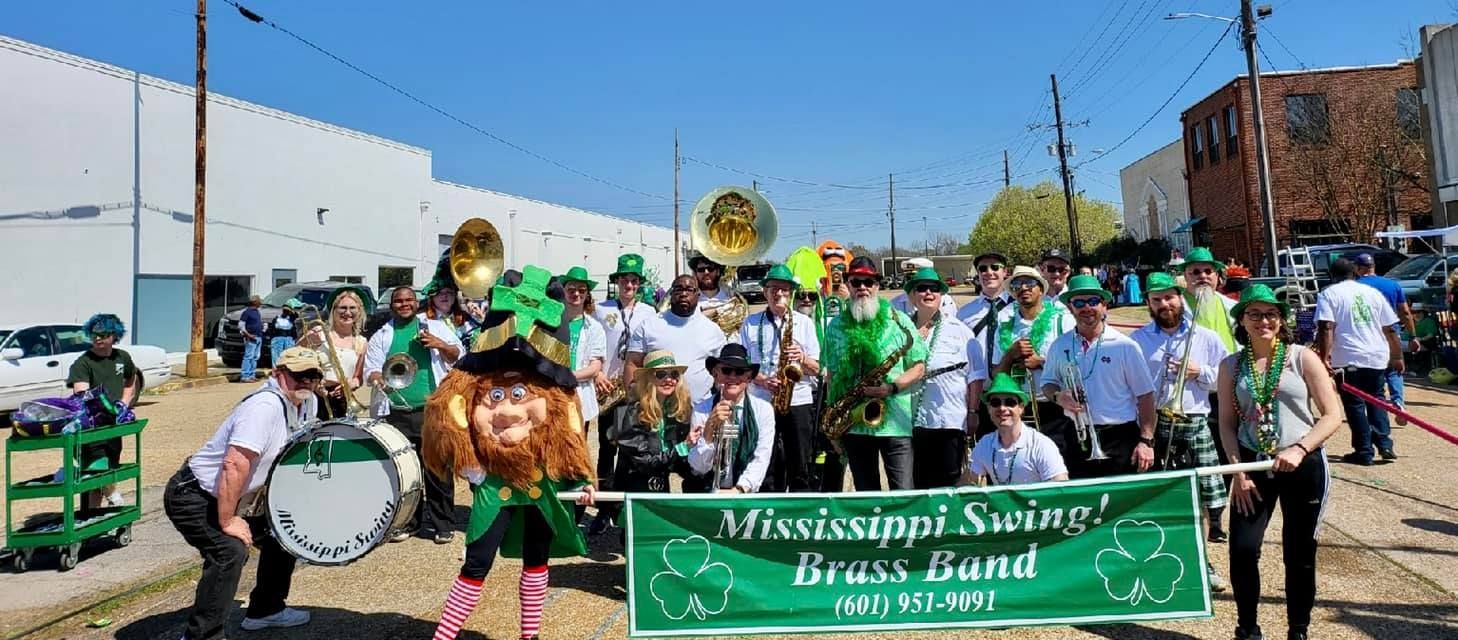 Celebrating 15 Years in the Hal's St. Paddy Parade, and winner of the 2022 Otha Turner Marching Award, this year's band was comprised of 35 volunteers, including-   Trumpets: Ryan Coffey, Stephen Buccola, Scott Britton, Stephen Caldwell, Trey Bennett (slide trumpet), Chris Nail, Titus Taylor, Troy Taylor, Addie Elliott, Isaac Dwayne Anderson. Trombones: Jay Bennett,  Silas Murray, Justin Cummins, Todd Taylor, Troy Taylor. Eliza Beckett, Adonis Terry; Tuba: Larry Reaux , Seamus Priest; Tenor: Jim Logan, Ron Jenkins; Alto: Noah Pressler; Clarinet: Cathy Wilson; Snare: Jeremy Hilton; Bass Drum: Kevin Williford; Leprechaun: Caty Coffey; Banner Holders: Caty Coffey / Macy Cummins; Cart / Bead Throwers:  Hughey Williford, Gay Logan, Liya Wilson, Lori Nail, Johnna Nail, Anderson Allen, Stephen Caldwell's Fiance'; Director: Paxton Girtmon
This was the brass band's 6th time to receive the Otha Turner Marching Award.
2021 MS SWING! BRASS BAND
DUE TO THE PANDEMIC, THE 2021 ST. PADDY PARADE WAS CANCELLED. WE HOPE TO SEE YOU NEXT YEAR!
2020 MS Swing! Brass Band
DUE TO THE CORONAVIRUS OUTBREAK, THE 2020 ST. PADDY PARADE WAS CANCELLED.