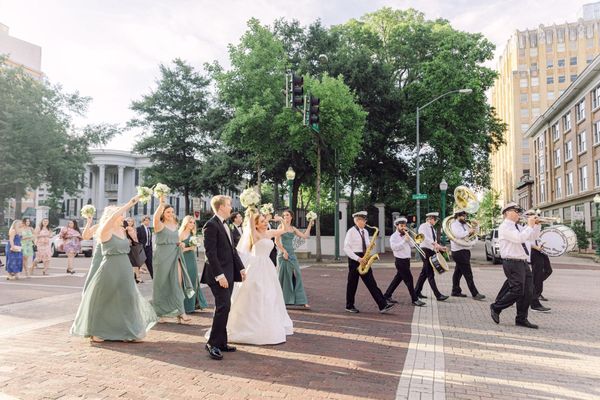 The Jackson All-Stars Brass Band
     History was made when The Jackson All-Stars were recently asked to assemble a traditional New Orleans style brass band for a wedding, in Canton. On May 29, 2010, The Jackson All-Stars Brass Band was born! A spin-off of The Jackson All-Stars and the award winning Mississippi Swing Brass Band!, the professional brass band performed a swingin' Dixieland version of "Here Comes the Bride" at Grace Episcopal Church followed by a second line stroll around Canton Square to the Old Post Office. Tunes included Second Line, Down By the Riverside and When the Saints Go Marching In! Musicians included David Schommer (Trumpet/Vocals), Jeff Reiter (Lead Trumpet), Mike Weidick (Trombone), Maurice Hillman (Sax), Steve Cook (Snare), Bobby McClellan (Bass Drum), and Matthew Bear (Tuba).

A special thanks goes to Thomas Dagostino and Renee Halsey for giving us this opportunity! Thanks also goes to Elizabeth Koskie and Maurice Hillman for developing an effective bassline from the original Bridal Chorus for the event! Thanks also goes to Bobby McClellan for providing the brass band hats and Becky McClellan for photographing the event.
For more information, contact David Schommer (Bandleader), at 601-951-9091.
JAS Brass Band Performs at Northwood Country Club!
The Jackson All-Stars is back in business! The pandemic lockdown put a huge dent in our business but we're back! On March 8, 2021 the Jackson All-Stars Brass Band performed for the Hinds Behavioral Health Services 50th Anniversary Party! This was followed by three more performances in May - Opening Night at Trustmark Park, a wedding reception at The Cedars, in Jackson, and a wedding reception at Northwood Country Club, in Meridian! We appreciate the opportunity to perform! My volunteer big band Mississippi Swing!, along with the MCSB Community Outreach Band,  performed June 5th at the Renaissance at Colony Park! DJ Dave of the Jackson All-Stars performed at this year's Watermelon Classic on July 3rd!
Jackson All-Stars Brass Band Performs for Cystic Fibrosis 5K!
JAS Brass Band members David Schommer, Maurice Hillman, Mike Weidick, Patrick Rettger, Bobby McClellan, and Steve Cook performed for the Cystic Fibrosis Great Strides 5K on March 24th! A BIG THANKS to everyone who supported the Jackson GREAT STRIDES WALK/5K RUN! The event helped raise $60,000 to fight Cystic Fibrosis!!!!