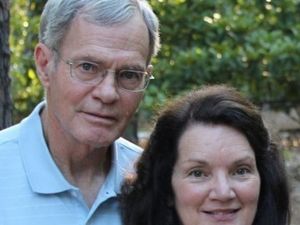 Bill Mayfield was one of the original founding members of Mississippi Swing! and performed regularly with the Mississippi Community Symphonic Band. He served as first trumpet, section leader, and performed with the Mississippi Swing Brass Band! during its early years. He was a good friend and known for his enthusiastic support of the band and his soft-spoken, friendly leadership style.  He received Mississippi Swing's Outstanding Service Award, in 2011.

Susan Mayfield, a strong supporter of Mississippi Swing! and the MCSB, died on Wednesday, April 30th, 2014 at the University of Mississippi Medical Center. A visitation and funeral service was held on Saturday, May 3, 2014 at Covenant Presbyterian Church. A long time resident of Jackson, she was a graduate of Millsaps College where she earned her degree in Music. She was a faithful and active member of Covenant Presbyterian Church where she both sang in the choir and served as handbell choir director. Susan was a former member of the Jackson Academy Board of Directors and Band Boosters. She gave of her time generously by teaching special education in her volunteer work with Goodwill as well as assisting in the planning and execution of the Mississippi Children's Museum. Susan loved teaching others to appreciate music and was currently teaching piano to numerous students. She was also an accomplished pastel artist. She cherished spending time with her grandchildren and will be most remembered as a loving wife, beloved mother, a cherished grandmother a devoted sister and friend. In addition to supporting our regular concerts, Susan performed with Mississippi Swing! on piano at Christmas in Canton. 

They will both be missed....

David Schommer, Bandleader
Benjamin F. Finison Jr., passed from this life to the next on Monday, July 30, 2012. He was 58 years old. A memorial service was held in the chapel at Broadmoor Baptist Church on Thursday, August 2, 2012 at 2:00 p.m. with visitation before the service starting at 12 Noon. Born July 18, 1954 to Benjamin F. Finison (Frank) and Louise G. Finison in Forest, Mississippi, Ben was an avid musician. He participated faithfully in the orchestra at Broadmoor Baptist Church, Mississippi Community Symphonic Band, and Mississippi Swing! He was predeceased by his father. He is survived by his mother, Louise G. Finison, sisters, Nancy F. Vaughn (Billy), Ann F. Pittman (Hewitt), his nieces, Brandi V. Sellers (Cass) and Emily C. Vaughn, along with a host of cousins. The family greatly appreciated the staff of Central Mississippi Medical Center and Select Specialty Hospital in Jackson for their kindness and compassion during Ben's last days. In lieu of flowers, memorials may be made to the building fund at Broadmoor Baptist Church.